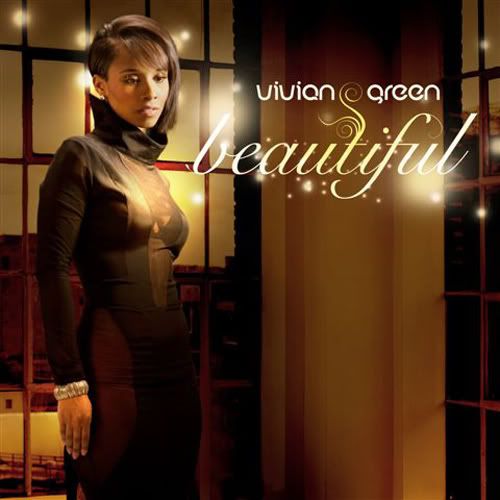 R&B singer and songwriter Vivian Green is set to release her long-awaited new album, "Beautiful," on Tuesday, April 6th, 2010 on E1 Music. "Beautiful" is now available for pre-order on iTunes. Click here to purchase it!
The album's track, "Beautiful," broke into the Top 20 at Urban AC radio, and is currently #15 and rapidly rising. The new video for "Beautiful" (directed by Chris Stanford) has been added to soul network Centric
To celebrate the release of her album, Green will perform at The Birchmere in Alexandria, VA on 4/5 and S.O.B.'s in New York City on 4/6.
Vivian is now leaking another track from her forthcoming new album entitled "When We're Apart." Click here to listen:
In contrast to her first two albums, which were recorded in a variety of studios with multiple producers, Vivian approached the recording of "Beautiful" in a more intimate, organic manner. With the exception of "Save Me" and "I Know How," which she cut with Jason Farmer (Keyshia Cole, Rihanna, Wyclef Jean) in the producer's seat, Vivian recorded the entire album with Grammy-nominated producer Anthony Bell, a longtime friend and collaborator who made key production contributions to her first two albums, and whose extensive resume also includes work with Jazmine Sullivan, Jewel, Musiq, Raheem DeVaughn and Jill Scott.
The final track listing for "Beautiful" is:
01. "Beautiful"
02. "When We're Apart"
03. "I Know How…"
04. "Better Man (skit)"
05. "Better Man"
06. "Save Me"
07. "Too Intense"
08. "Somewhere"
09. "Caught Up"
10. "Search Is Over"
11. "So Far Gone"
12. "Jordan's Song"
13. Bonus Track: "One Of None"