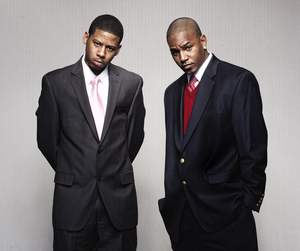 E1 Music announces the release of "Cam'ron Presents The U.N. – GUNZ N' BUTTA," the new album featuring Harlem legend Cam'ron.
Cam'ron, Diplomat C.E.O., U.N. C.E.O., solo artist and actor, has formed a new group with Harlem up and coming rapper Vado dubbed The U.N. Cam's biggest goal is to keep Harlem in the spotlight with dignity and honor. Cam'ron has recorded over 150 songs over the last three years and "GUNZ N' BUTTA" is the first much-anticipated look at what Cam'ron's been cooking up. He is featured on every song on the album and heads in a different direction with this new movement. Blogs and message boards are already on fire in anticipation of this new project — look for videos for most of the tracks to hit virally in the upcoming weeks.
Cam'ron has been shaping urban culture since the release of his first solo album in 1998. He has gone on to release six solo albums, which have sold millions of units collectively. His album, "Come Home With Me," featured the hits "Oh Boy," and "Hey Ma," and was certified platinum.
Cam'ron was also the leader of the influential Harlem movement The Diplomats. The collective sold over a million albums, with their classic debut album "Diplomatic Immunity" surpassing Gold status.
The first single off of "Gunz N' Butta," "Clap," finds Cam'ron back to form and will hit urban radio shortly.
Cam'ron states, "Alan Grunblatt is a true visionary in hip hop. I am thrilled to work with him again. We gonna make history. It's all about the new movement."
E1 Music President Alan Grunblatt says, "Cam helped take E1 (KOCH) to the next level with our Diplomats deal. Cam is a true visionary and I'm thrilled to be working with him again."
Cam'ron branched out and earned his acting chops with 2002's full-length feature "Paid In Full." He followed that up with his film "Killa Season." Cam is prepping his most important film role to date in "Killa Season 2," due out later in 2010.
Cam'ron continues to be managed by Big Joe at New Era Management.