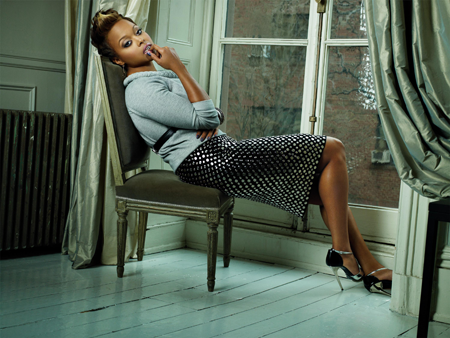 As we close out 2009, it's time to go back and take a look at some of the best releases from the year. Various labels hyped up some of the major releases this year but failed to gain any critical acclaim on my end. The albums which appear on my list are the ones I thought deserved major kudos. Sales should not blind consumers in what a great album is, where the album takes you should.
Amerie – In Love & War
Amerie's been the music game for almost 8 years but still doesn't get the respect or attention deserved. One thing for sure is she hasn't given up. On her fourth disc titled "In Love and War", Amerie continues to give us her bold, sexy, chic style. She sings about relationships in a way you'd immediately relate to it. Sometimes when things are cool, you're singing like a lovebird or when you're down in the dumps you have rage and overt bitchiness. There's "The Flowers", touching on that someone trying to make it up to you when the relationship has died; "More Than Love" when trust becomes a factor in moving forward in a relationship; and lastly "Higher" centering on the highs and lows of love.
Chrisette Michelle – Epiphany
If you didn't know about her sophomore disc, Epiphany, you've must have been living under a rock. The opening bass to the title track "Epiphany (I'm Leaving)" let you know Chrisette came to stay awhile in this fickle industry. This song turned into an immediate fan favorite along with "What You Do" featuring Ne-Yo.
Chrisette gave us everything that an album should have – variety! She gave us Tina Turner-esque vocals on Blame It on Me; A little Dinah, Sarah, and Ella on Mr. Right and what's so great about it is you hear Chrisette. There's one thing to sound like an artist but another to be influenced by their style and make it your own. That's what Chrisette does!
The best thing about the Epiphany album was how it was consistent in quality. It didn't sound like the run-of-the-mill productions we hear every five minutes on the radio. Ne-Yo , Claude Kelly, and Chuck Harmony all deserve kudos on how well her sophomore album turned out.
Laura Izibor – Let The Truth Be Told
She's been compared to superstar Alicia Keys but this Irish beauty is determined to hold her own. The moment you hear the playful "From My Heart to Yours", the song remains stuck in your head long after the songs end. This well-crafted album features the upbeat "Shine", "MMM" and the dramatic Perfect World. Laura wanted this album to be treated like a baby with special care. It took her four years to record this project and it definitely showed.
Maxwell – Blacksummersnight
This has been quite a year for Maxwell. He's been gone for eight years and came from nowhere to show these new gentlemen of R&B / Soul how it's supposed to be done. It shouldn't be a surprise Maxwell's album was on this list because the wait for his album was well worth it. With hits like Pretty Wings and Bad Habits, the soul lacking from music got a new heartbeat. Throughout Blacksummersnight you can hear the handpicked instrumentation to fit the mood of each song. It goes to show you that having hot producers doesn't equate success.
Maxwell has earned the number one position on Billboard's Hot 100 and R&B charts. Maxwell has definitely taken the elevator up from his "Urban Hang Suite" to the deluxe penthouse in the high rise.

India Arie – Testimony Vol. 2
India has been one of the most evolving artists of this decade, yet she doesn't get the love she should. Testimony is like a fine work of art; it's abstract, colorful, and it keeps you amazed each time you take a listen. Notable tracks on this album include Ghetto, Yellow feat. Terrell Carter, and the marvelous remake of Sade's classic hit, "Pearls".
India kept to her acoustic soul roots while delivering some tracks with a little country, rock-n-soul and a little folk. Her writing has become more honest and very beyond her years. She always finds a way to mesh everything together very well.
Various Artists – An All-Star Tribute to Maze featuring Frankie Beverly
After being in the music business for over 40 years, Maze featuring Frankie Beverly finally received a tribute worth talking about. Most albums done in this manner take place after a group has disbanded or the members have passed on. Luckily Maze and Beverly got to listen to the new generation of musicians take on their classic songs.
The tribute featured heavyweights in R&B and Soul such as Ledisi, Mary J. Blige, Kem, and Raheem Devaughn to name some. They covered classic hits such as Joy & Pain, Can't Get Over You, and Ledisi's striking cover of Happy Feelings. When people remake material they fail to capture the essence of the hard work the originating artist put into it. This all-star tribute lived up to expectations that it's a must have for collectors of good soul music.
Whitney Houston – I Look To You
The original good girl of R&B silenced her critics when she returned with her best album since "My Love is Your Love" in 1998. Whitney defined her returned with the Diane Warren penned "I Didn't Know My Own Strength" and the gospel testimony of "I Look To You". Many were worried if Whitney would ever be able to sing again after her suspected heavy drug use. Whitney proves she's a survivor and can overcome just about anything on "I Look To You". Featuring promising songs such as Million Dollar Bill (produced by new couple Alicia Keys and Swizz Beats), Like I Never Left, and Salute Whitney proves she can hang with the best of them. This project was a well constructed effort by longtime producer and father-figure to Whitney Houston, Clive Davis. This is only the beginning for Ms. Houston and only time will tell where this will take her.
Ledisi – Turn Me Loose
Ledisi has been on her grind in the music business for many years. She almost gave up on music when people didn't notice what she was offering. After garnering Grammy nominations in 2008, Ledisi came back in full force with another daring CD. Turn Me Loose is Ledisi's fourth studio LP and boy did she let loose! Turn Me Loose has that down home feel where if you turn it on, the family starts grooving. No matter whom you are, young or old; Ledisi had you singing along with tracks like "Higher Than This", "Going Through Changes" and "I Need Love". For her to be a little lady she has a voice bigger than life and a hell of an album worth checking out!
Joe – Signature
This R&B crooner has been in the music business for over 15 years and he keeps getting better with time. Joe's signature style is making people think as well as fall in love. On this new disc Joe reminds us why he's lasted this long in the music business – his consistency to create great music. "Signature" embellishes a plethora of musical styles from hip-hop to that adult contemporary R&B. One of his great tunes from this disc is "Love's Greatest Episode" where he talks about foreplay leading up to some good love making. If there's anyone who can talk about love in stages, it's most definitely Joe. Other notables on this album are "Very Special Friend", "Sensitive Lover" and the Marvin Gaye remake of "Come Get to This".

Ryan Leslie – Transition
Ryan is in a new class of his own – smooth, unique, and authentic. Ryan has produced hits in the past for the likes of Cassie and Bad Boy mogul Sean "Diddy" Combs. Most were confused when he released a new set of material nine months after his debut "Ryan Leslie" dropped in February. His voice isn't exactly like Marvin Gaye or any other soul veteran but he carries a song in such a way you stay listening to his material. Transition is based on one of his personal relationships and the tracklisting alone gives you a feel of what he went through during that period. Leslie keeps you entertained with chic, upscale production and sophisticated writing styles most male artists can't emulate. "You're Not My Girl", "Rescue U" and "Guardian Angel" are all titles worth checking out.
– Dhaani (UBGteam)