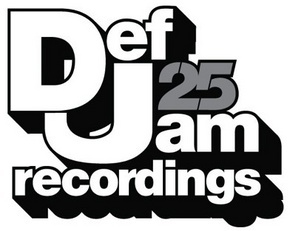 In Billboard magazine in November
of 1984, a little story three-paragraphs long announced
the creation of a new record label called
Def Jam. "The purpose of this company," said a
young artist manager named Russell Simmons,
"is to educate people to the real value of real
street music by putting out records nobody in the
business would distribute but us."
Twenty-five years later, 'the real value of real
street music" can be measured not just in billions
of dollars, but in the changed complexion of all
of the following expressions of creative endeavor:
music, movies, television, language, dance,
fine art, graphic art, fashion, advertising, automobiles,
jewelry, video games, and politics…and
not just in America, but globally. If any one entity
can be said to have sparked these changes – and
to have continued to stand for street music and
the culture that birthed it, namely, hip-hop — it
is Def Jam Recordings.
The Def Jam 25th Anniversary
set is a collection of hits from the labels chart
topping stars and cultural icons. Includes Jay-Z,
Kanye West, Ludacris, Beastie Boys, LL Cool J,
Public Enemy, DMX, Young Jeezy, Method Man,
Redman and more!
1. I Need A Beat – LL Cool J
2. It's The Beat – Hollis Crew
3. Bring the Noise – Public Enemy
4. Paul Revere – Beastie Boys
5. The Rain – Oran "Juice" Jones
6. Goin' Back To Ca li – LL Cool J
7. Brass Monkey – Beastie Boys
8. It's Yours – T La Rock fT. Jazzy Jay
9. I Need Love – LL Cool J
10. Children's Story – Slick Rick
11. The Gas Face (Remix) – 3rd Bass
12. Fight The Power – Public Enemy
Disc 2
1. Mama Said Knock You Out – LL Cool J
2. Gold Digger – EPMD
3. Pop Goes The Weasel – 3rd Bass
4. Daddy's Little Girl – Nikki D
5. Room To Breathe – Downtown Science
6. Time 4 Sum Aksion – Redman
7. Slam – Onyx
8. Deeper – Boss fT. Papa Juggy
9. Crossover – EPMD
10. Bring The Pain – Method Man
11. Hip Hop Junkies – Nice & Smooth
12. Regulate – Warren G fT. Nate Dogg
Disc 3
1. This Is How We Do It – Montell Jordan
2. Stand Up – Ludacris fT. Shawnna
3. Holla Holla – Ja Rule
4. Touch Me Tease Me – Case fT. Foxy Brown
5. I'll Be There For You/You're All I Need To Get By
Method Man fT. Mary J. Blige
6. Get Me Home – Foxy Brown feat uring Blackstreet
7. Hard Knock Life (Ghetto Anthem) – JAY-Z
8. Get At Me Dog – DMX feat uring Sheek
9. Doin' It – LL Cool J
10. Da Rockwilder – Method Man & Redman
11. Party Up (Up In Here) – DMX
12. Tell 'Em – Erick Sermon
Disc 4
1. 99 Problems – JAY-Z
2. Thong Song – Sisqo
3. Just Friends (Sunny) – Musiq Soulchild
4. Put It On Me – Ja Rule fT. Vita
5. Is That Your Chick (The Lost Verses)
Memphis Bleek fT. JAY-Z, Twista & Missy Elliott
6. Izzo (H.O.V.A.) – JAY-Z
7. The Truth – Beanie Sigel
8. Oh Boy – Cam'Ron feat uring Juelz Santana
9. Guess Who's Back – Scarface fT. JAY-Z & Beanie Sigel
10. What We Do – Freeway fT. JAY-Z & Beanie Sigel
11. Southern Hospitality – Ludacris fT. Pharrell
12. Jesus Wa lks – Kanye West
Disc 5
1. Gold Digger – Kanye West fT. Jamie Foxx
2. And Then What – Young Jeezy fT. Mannie Fresh
3. There It Go (The Whistle Song) – Juelz Santana
4. Hustlin' – Rick Ross
5. Back Like That – Ghostface Killah fT. Ne-Yo
6. So Sick – Ne-Yo
7. Hip Hop Is Dead – Nas fT. will.i.am
8. Don't Feel Right – The Roots fT. Maimouna Youssef
9. Umbrella – Rihanna fT. JAY-Z
10. Make Me Better – Fab olous fT. Ne-Yo
11. Shawty Is Da Sh*! – The-Dream
12. Put On – Young Jeezy fT. Kanye West
Includes…limited edition
25th Anniversary
T-Shirt by Adidas and a
60 page
commemorative
Def Jam book!
**Don't Forget to Catch VH-1's Hip-Hop Honors on Tuesday, October 12 at 9:00 PM ET/PT. for a Special Tributwe to Def Jam**