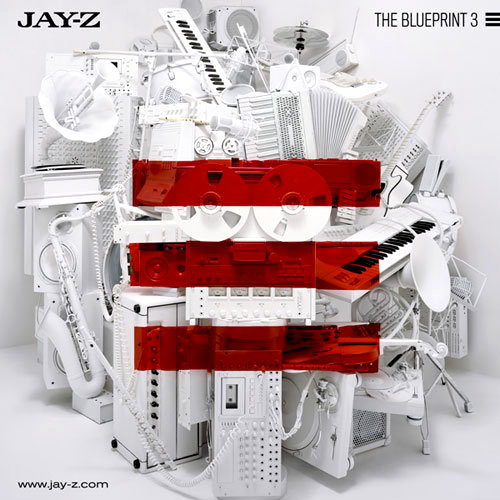 International superstar and multi-media mogul, JAY-Z confirms the most highly speculated date in recent music history. Friday, September 11, 2009 is the official release date for the eagerly anticipated BLUEPRINT III. The follow up to JAY-Z's instant classic BLUEPRINT (2001) and the critically acclaimed BLUEPRINT II (2002); BLUEPRINT III is the final installment in the BLUEPRINT series. BLUEPRINT III is a Roc Nation / Live Nation release distributed through Atlantic Records.
"This project is all about pushing the envelope. Being an independent artist, I have an incredible freedom to utlize my unique existing relationship with Live Nation and revive partnerships with great creative teams. I have this amazing and rare opportunity to explore different ways to distribute my music. It's exciting because BLUEPRINT III has been a long time in the making." The album's first single "D.O.A. (Death of Auto-Tune)" has exploded since it's June release, hitting the Top 5 on the overall iTunes chart. Performed live on the BET Awards on June 28th, the song'svideo premiered immediately following the show to great acclaim. Second single "Run This Town" with Rihanna and Kanye West premiered on radio on July 24th and be released digitally on August 11th.
Since 1995, Jay-Z has dominated the rap industry and set the trends for a generation. 14 years later, Shawn "Jay-Z" Carter has come to personify the new American Dream, for millions the world over. Over his career, he has sold more than 40 million albums and sold out arenas worldwide. Winner of 7 Grammy Awards, his 10 No. 1 albums tie him with Elvis Presley and place him behind only The Beatles for the most of all-time. He is the founder and chairman of Rocawear, co-owner of the NJ Nets, 40/40 Sports Clubs and co-owner of the skin care and beauty line Carol's Daughter. Jay-Z became the first non-athlete to enter into a major footwear co-venture with his S. Carter line for Reebok and in addition, continues his philanthropic work through his Water For LIfe initiative and Shawn Carter Scholarship Foundation. In 2008, JAY-Z entered into a partnership with Live Nation forming Roc Nation. This groundbreaking new division, headed by Shawn "JAY-Z" Carter creates unique management, publishing and distribution deals with artists and songwriters.