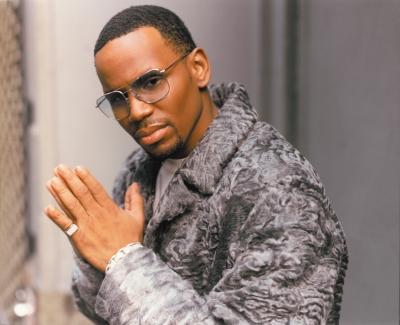 "Sailing," the new single from platinum-selling Capitol singer-songwriter AVANT, will appear as an iTunes exclusive EP on April 7, 2009. The artist has been on tour since late January in Je'Caryous Johnson's popular stage play Love Overboard, co-starring with KeKe Wyatt, Carl Payne, Karen Malina White and Khalil Kain, and playing remaining runs in California, Texas and Oklahoma through early May.
"Sailing," AVANT's new-style re-invention of the Christopher Cross ballad standard, is already a national Top 20 hit on adult-targeted Urban AC radio, and was the No. 1 most-added song in the format at its release to radio earlier in March. It joins AVANT's long-lived previous single in the Billboard Urban AC airplay Top 20, where "When It Hurts" is currently No. 7 after 28 weeks on the chart, peaking at No. 3.
For the iTunes EP, the album version of "Sailing" is combined with three tracks previously unreleased to the domestic market: "Yes," "You Are More" and "Provocative."
The self-titled album's kick-off single "When It Hurts" also remains on the Billboard Hot R&B/Hip-Hop Songs chart in the Top 40, after an eight-month chart run, peaking at No. 15. At the turn of the year, a viral video for the album track "Break Ya Back" also created major internet buzz around the album.
The Capitol album AVANT debuted at No. 6 on the Hot R&B/Hip-Hop Albums chart at its December, 2008 release, and entered in the top 30 in Billboard's Top 200 national album chart. It is AVANT's fifth album, and his first for Capitol Records. Album track collaborators on AVANT include such innovators and hitmakers as Trackmasters (LL Cool J, Nas), The Architects (Missy Elliott), Anonymous Entertainment's Eric Dawkins and Tony Dixon, and DJ Smurf aka Collipark (Soulja Boy).
Avant has one RIAA Platinum album certification for My Thoughts and two additional Gold album awards for Ecstasy and Private Room. His Top 10 R&B/Hip-Hop hits include the No. 1 "Separated," the No. 4 smash revival of Rene & Angela's Quiet Storm classic "My First Love" with Ketara "Keke" Wyatt, and the No. 3 "Read Your Mind," with Snoop Dogg. He has appeared as an actor in the stage play Love in the Nick of Tyme and in the hit film comedy First Sunday, alongside Ice Cube, Tracy Morgan and Katt Williams.
Available Now On iTunes
http://itunes.apple.com/WebObjects/MZStore.woa/wa/viewAlbum?id=310153044&s=143441